St.Joseph's PTA
Parents Support Group Christmas Newsletter
Dear Parents/Guardians
Welcome to our Christmas newsletter at the end of a busy and successful term. We hope you and your children have settled into the new term well. We got off to a great start this year by securing funding through 'Awards for All' to support our after schools clubs. We were awarded £4650 in total, although this does not fully cover the expenses of afterschools we hope that it goes a long way to help support parents in funding extra-curricular activites. Also, thank you to everyone who attended the movie night in the school. We hope the children enjoyed themselves!
2017 / 2018 Fundraising
Our main objective has been to assist the school in raising enough to fund the installation of new interactive whiteboards for each classroom. These are estimated to come at a cost of approximately £3000 each, this is a huge task and we hope to purchase these as soon as possible. Outside of our usual school fundraisers the Parents Association are actively seeking grant funding from external sources. This is not always successful but we will continue to approach various providers on behalf of the school. If any parents or guardians are aware of any funding sources we might not know of please do contact us to let us know.
Amounts raised 2017 / 2018
Smarties collection = £286.85
Halloween Cat Raffle = £56.60There will be a Christmas Get Together at the school on Sunday 10th December from 3 – 6pm. This event has been organised by the local cross community association and will surely be a fantastic day for families to enjoy. The Parents Association will be in attendance and will be selling various Christmas Crafts. We look forward to seeing you there.
A giant Creek Cuddly toy will be raffled at the matinee performace of the Christmas play. Tickets will be 50p each.
Up and Coming Events:
We will be having our annual Hot Chocolate sale at the school evening play performance which is taking place on Thursday 14th December at 7pm. Tea and Coffee will also be available.

School Calendar. Due to the success of last year's calendar 2018 calendars will be available to purchase from school at £10 each. These are a wonderful keepsake which will include the children's art work and pictures of events during the year.

We aim to organise a Night At The Races to be held in the Four Roads Inn during Spring Time. We will bring you further news of this as soon as we know more.

EASY FUNDRAISING

Do you shop online? Do it through easyfundraising.org.uk and raise a free donation for St.Jospeh's Primary School every time you shop. Just go to www.easyfundraising.org.uk/causes/stjosephstyrellapa/

Thanks and Acknowledgment:

Many thanks to everyone who has supported our PA including the following:

All the parents, families and the children at St. Joseph's PS.
Mrs McMullan (School Principal), Mrs Richenda Colhoun (School Secretary) and all the staff at St. Joseph's PS for all their help and support throughout the past year.
Our committee members and volunteers for all their hard work and personal donations to the Halloween and Christmas raffles.
The Four Road Inn for hosting our committee meetings and supporting our fundraising events.
All of the numerous individuals and local businesses who kindly supported our various fundraisers including providing excellent raffle prizes and sponsors of our Christmas Calendar.
Mr Sean Magorrian from our local VIVO
Mr Peter Savage from Fairstone NI for donating the refreshments at the cinema night
Mr E. Magorrian for kindly auditing our accounts.
Fr. Fleck and Ballykinlar Parish
Chair Mrs Regina Hanna
Contact us at : stjosephspa1@gmail.com
Slideshow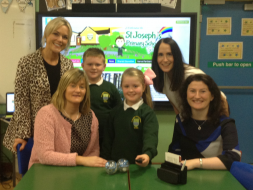 St Joseph's Primary School, 24 Tyrella Road, Downpatrick, County Down, BT30 8DF | T:028 44851600