Curriculum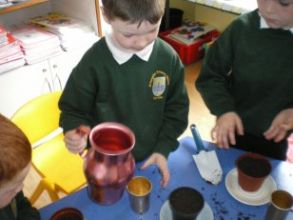 St Joseph's aims to put the child at the heart of the curriculum. The school provides a broad, balanced, challenging and relevant curriculum that is vigorously planned, professionally implemented and systematically evaluated by a dedicated and experienced staff. The intellectual, emotional, social, spiritual, cultural and physical development of each individual within a happy caring environment is of prime concern. Emphasis is placed on the development of competence in the basic skills while at the same time promoting self-esteem, discipline and confidence within the individual.
All pupils will follow the New Revised Curriculum that is set out as follows.
There are seven areas of learning:
Literacy
Numeracy
The World Around Us
Personal Development and Mutual Understanding
Religion
The Arts
Physical Education
The religious education of our children is vital within our curriculum content as it permeates the life of all children in our school.
Key skills will be developed to prepare our children for life in the 21st century. They are:
UICT
Thinking Skills and Personal Capabilities
Communication
Using Mathematics
The staff meets regularly on matters relating to the planning and development of the curriculum, ensuring the continuity and progression from year 1 to year 7.
A variety of teaching approaches are used while class, group and individual interests and needs are catered for. Effective teaching is achieved by differentiation, the careful matching of activities and contents of lessons to the individual needs and abilities of the children in our care.
In order to make the curriculum as meaningful and practical as possible, a topic or thematic approach is often adopted.
St Joseph's Primary School, 24 Tyrella Road, Downpatrick, County Down, BT30 8DF | T:028 44851600