Welcome to P3
Welcome to Primary 3. Keep up to date on what is happening in our classroom by reading our news articles and checking out the photos in the gallery.
What are we learning
September 2019 " People Who Help Us"
We are hitting the ground running this year with our first cross-curriculum topic. This month we are learning about a variety of jobs which are important to us in our local community. We are finding out about all the wonderful things our mum does for us , the work of the emergency services and even learning about the life of the most famous nurse of all -- Florence Nightingale.
Our Activity Based Learning sessions are packed full with interesting areas of learning to enhance our experiences such as a role play hospital , writing zone, construction zone, art/craft area and much more . We've also been working hard to make our class look fabulous with new displays . Take a look at our photo gallery to get a flavour of what we have done!!!
October " Clothes"
This month were are exploring the world of Fashion & Design!!! The year 3 pupils are experimenting with a range of fabrics to design and make clothes and shoes fit for the catwalk!! They will learn which fabrics are best for different types of clothes and which fabrics are best to wear on wet days. We will investigate waterproofing through fair testing and record our findings.
Our play areas will include : a Fashion Factory , a Clothes Shop , Bee Bot programming task for clothes and shoes, Building area for shops, clothes jigsaw zone and lots more.
We will also be reading topic stories such as " The Emperor's New Clothes " and " The Elves & The Shoemakers " to inspire our work. Watch out for all our photos in our gallery!!!
November " Our Village"
This month we are learning about where we live . We will explore the differences between rural and urban living . We will learn the country code and focus on life in our locality. We will visit Ballykinlar to carry out a local survey , take pictures of landmarks and even visit Sean and the girls in the shop!!!
During Activity Based learning sessions we will make a model of Ballykinlar village , have our very own Sean's shop , use Apps to create factual accounts about Ballykinlar such as " My Story" and " Chatterpixs" and lots more fun tasks.
We will read " Town & Country Mouse" , " The Village in The Snow" and poems about village life. This will inform our writing tasks and stimulate creative thinking. We will develop our data handling skills through work on carroll diagrams related to village / town life and will also develop our skills in using money both in our class shop , lessons and real-life experiences in Sean's shop.
Keep and eye out throughout the month as we will be posting photos of our work on this page!!!
Latest Photographs
Class Gallery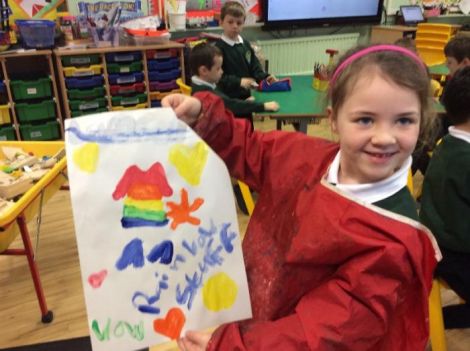 Class News
12th Nov 2019
We are delighted to announce that our coffee morning event raised £350 !!! Many thanks to everyone who donated .

5th Nov 2019
We welcomed back our friends from Newcastle Primary School this morning as we started a new year of shared learning. It all...

St Joseph's Primary School, 24 Tyrella Road, Downpatrick, County Down, BT30 8DF | T:028 44851600