What are we learning in P3?
September 2022 : " School's Cool "
Welcome to Mrs McMullan's P3s class!!!
We've hit the ground running with our first topic of the new school year. Our school really is cool!!
This month we are investigating life at St Joseph's . We will be starting off exploring our new classroom and designing our dream classroom. We will develop observation skills by finding out how our school is designed and making a 3D model of the building . We will learn about jobs in our school and have visits from staff members to talk about their roles. We will also learn about school long ago and how it has changed through the years. There will be lots of opportunities to develop creative skills through a designated art/craft zone. ICT will be integral to learning both through use of IPads and PCs as well as our Interactive whiteboard.
Our Literacy lessons will develop poetry writing skills about school and punctuation / grammar work as part of sentence writing skills. We will read lots of topic books and guided reading text which will include fiction and non-fiction genre.The children will also have lots of opportunities to express their thoughts and opinions through talking and listening sessions.
Numeracy lessons will focus on place value , number bonds , time and shape . There will be links to our topic through measure lessons.
Watch out for photos which we will post soon.
October 2022 " Our Senses"
This month we are learning about taste , touch , sound , sight , smell. We will be investigating the world around us and how we use our senses to understand our environment. We will take part in a range of tests to discover how good our senses are and what we can identify . We will use our school grounds to take part in outdoor learning lessons take note of sounds , sights and different textures we can touch around the grounds.
Our Literacy lessons will focus on a different sense each week . We will write about our senses , learn facts about how our eyes , ears , tougue , nose and fingers allow us to become aware of senses, We will learn topic words and use them in the correct context. We will read alot of books about our senses.
Our activity based play sessions will be centred around our topic . We will have senses jigsaws , a feely centre , sound centre , music area, taste zone , dark tent, cut and stick sense area, senses ICT games , painting area and lots more fun activities.
We will use this opportunity to work on our data handling skills in relation to eye colour, favourite foods and favourite songs.
Watch out for some great pics coming soon !!
November 2022"Light/Dark"
This month we have been learning how our world changes in the month of November. We have explored how the days are shorter and the nights are longer. We have read books about the dark such as "The Owl Who Was Afraid of the Dark" and learnt words with "ar" sound in them. We have also learnt how to build circuits to make light bulbs work and even included switches to our circuits.
During Play sessions we experienced the dark in our Dark Den , we paint light sources and cut out sources of light, we read books both fiction and non-fiction on our topic, we built light sources and completed ICT tasks .
December 2022"Christmas"
This month has been exceptionally busy!!! We have transformed our classroom into a fun-filled Christmas delight! We have decorated the room with our Christmas tree, set up Santa's Workshop and put up lots of decorations around the room. We have made lots of Christmas crafts with our friends from Newcastle PS . We read Christmas stories and even wrote our own stories!! We loved our visit from Santa and the school Christmas Jumper Day. We completed lots of Christmas themed number tasks and Data Handling tasks. We used our ICT skills to create digital stories. This year we also had an alternative Christmas dinner which went down a treat!
The highlight of the month was our Christmas Show " Lights , Camel , Action" . What a great time we have had this month.
January 2023" Cold Land"
In January we will be learning all about countries and animals from cold countries. We will be focusing our learning on the country ICELAND . We will learn how the people live there in the winter , where it is on the map , what they do and eat in Iceland and the landscape of the country. We will study Polar Bears and Penguins , learning about their habitat , food , young , how they look.
At play sessions , we will create animations about cold lands, paint pictures , program our BeeBots , create a Cold Land reading area, complete animal jigsaws , naviagte through cold land ICT tasks.
The month will end with a trip to W5 in Belfast.
February 2023"Homes"
This month we are learning about our home. We will learn how houses are built , types of homes we live in , materials used to build a house, jobs when building a house. We will write stories in the style of "The 3 Little Pigs". We will read lots of fact books about houses and homes and enjoy designing our own house.
At play time we will create a house corner , jigsaw area , dough area to make food for the house, building zone , castle area, model house for small play and ice house games.
During numeracy hour each day we will build on our number skills to 99 , learn 1/4 past time, money to £1 , venn diagrams and problem solving skills.
Outdoor playtimes have changed to a Positive Playground sessions where we play with different children from all the classes . There are 10 play zones across all the play areas which we are loving.
Please take a look at our photographs .
February 2023"Homes"
This month we went " Through The Keyhole " !! We explored life at home and how our houses are designed and built. We amde 3D models of our houses and create a model street . We learnt about all the materials which are used to build a house and investigated waterproof materials. We set up a table filled with materials builders use everyday. We wrote factual accounts about our homes and build houses with construction toys. We used ICT software to create digital work and learnt about different types of houses both here and in the wider world.
We read both factual and fiction books about homes in a cosy house corner we set up . Many topic play areas were created around the room to enhance our learning.
March / April 2023" Minibeasts"
The topic of Minibeasts has proved to be a real winner in P3. The children were loved exploring the world of minibeasts and learning how they live. We had a minibeast hunt within the school grounds and found lots of creatures in the Bug Hotel !!
We made our own minibeasts in the " Creepy Craft Corner" and completed jigsaws of bees , butterflies , ants etc.. We played minibeast ICT games and programmed our BeeBot robot to move around our minibeast mat. We read lots of topic books and created wonderful displays .
We learnt about symmetry through looking closely at butterfies and making butterflies which showed perfect symmetry. We also learnt about Venn and Carroll diagrams through our topic.
May 2023 "Pirates"
This month we are learning about the life of a pirate. We have set up lots of topic zones in our classroom including : a pirate den , a pirate puzzle area , pirate book zone , pirate jigsaw area , pirate craft area, pirate building table, pirate writing / drawing table and lots more.
We are going on a pirate treasure hunt and will learn how real pirates lived long ago. We are learning pirate phrases and writing a pirate poem. We will read lots of pirate books and write about pirates.
Check out our photo gallery for more.
June "Summer Holidays"
This month we are travelling around the world to discover the best holiday locations! We will be finding out what we need to pack in our suitcase, how to get there, what we can do on holiday and lots more. We have set up a Travel Agents in our classroom and a holiday tent to play in. We are painting summer seaside pictures and making digital art creations.
In daily Literacy sessions we are writing about holidays , creating poems , postcards and learning topic vocabulary. We are reading lots of summer books in our reading zone and taking time to include all the grammar /punctuation skills we have learnt this year.
Number lessons are filled with 2,5 and 10 times tables , money work to £1, Analogue & Digital time as well as revising 2D/3D shape.
Its a busy month to end P3!
Class Gallery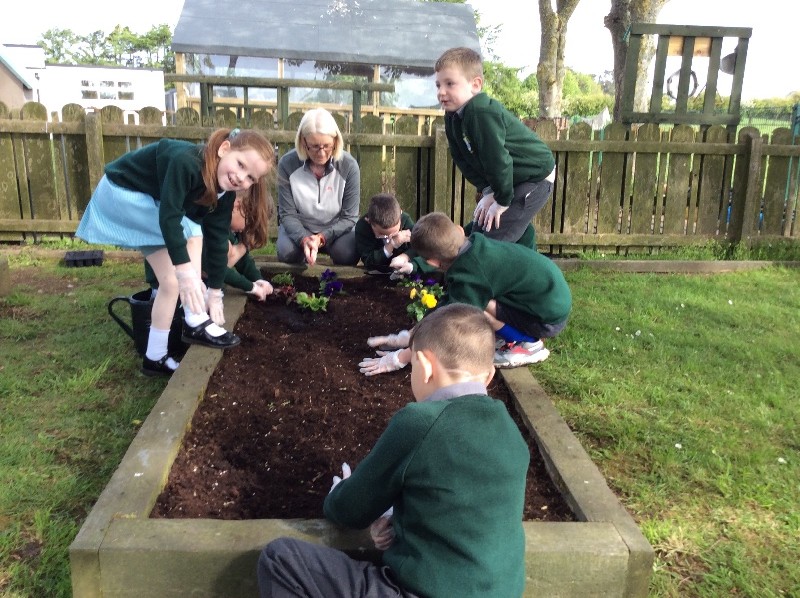 Class News
29th Sep 2023
Well done to Mrs Boyd's super Stars of the Week! Congratulations everyone.
29th Sep 2023
Today the P2/3 class had a special treat. To finish off all the hard work we had completed about 'People who help us' we...
St Joseph's Primary School, 24 Tyrella Road, Downpatrick, County Down, BT30 8DF | T:028 44851600