Meet Our Staff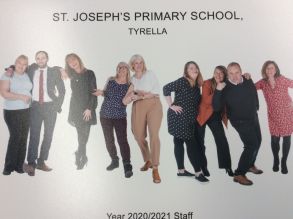 St Joseph's Staff
Principal : Mrs Mc Mullan
Whole School Management
Literacy Co-Ordinator
Deputy Designated Teacher for Safeguarding
Teacher Staff : Mr Mc Veigh
Numeracy Co-Ordinator ,
World Around Us Co-Ordinator ,
PE Co-Ordinator
Mr McEvoy
Designated Teacher for Safeguarding & Child Protection
UICT Co-Ordinator
Mrs Boyd
Music , RE / RSE Co-Ordinator, Pastoral Care
Learning Support
Teacher : Mrs Loughran
Classroom Assistants : Mrs Clarke , Mrs Maguire , Mrs Connor
Secretary : Mrs Colhoun
Caretaker : Ms L Zviristin
The staff at St Joseph's work tirelessly to meet the needs of the children in our care. There is a strong collegial approach to school improvement . All members show great commitment and enthusiasm to excel in their roles . They have the full support of the Principal and the Board of Governors. Close links between staff and parents is encouraged. An "Open-Door" policy exists in the school where parents are welcome to meet with staff .
St Joseph's Primary School, 24 Tyrella Road, Downpatrick, County Down, BT30 8DF | T:028 44851600