This Term in P4 and 5
Welcome to our P4/5 Page, here are some of the fun activities we have been doing.....
September / October
What are we Learning this half term?
Literacy.
This month in Literacy lessons the pupils will be very busy
The P4 and P5 will be writing short stories based on familiar settings. We are writing a story a story that is set on a farm. We are also learning about speech marks so our characters can say stuff in the stories. P5 pupils are looking at verbs and are beginning to use more powerful verbs in their writing.
The pupils will distinguish between fiction and Nonfiction books and we will be using a dictionary to help find the meanings of words. We will be looking at information about Japan and finding out about the Rugby World Cup.
The pupils will develop their spelling skills by Learning the spelling rule to adding –ing to a word. Primary 4 pupils will be using common prefixes like un and dis to make new words
Class novel for this term is "The Twits"
Numeracy.
Pupils will-
Shape and Space
Learn about 2d Shape and the properties of quadrilaterals. Primary 4 will study horizontal and vertical lines. P5 pupils will begin to use the terms parallel and perpendicular when describing lines.
Data Handling.
Display and read information from simple tally charts.
Time
Read the time to the five minutes (p4)
Read the time to the minute (P5)
Number
Primary 4 and 5 will be completing a lot of work on place value. We will ordering numbers.
WAU
In Primary 4 and 5 we will be looking at life a long time ago. This will lead us to learning about the Vikings and further back the Egyptians. We will be using maps to locate various countries and be looking at their climates.
PE
Keeping fit and healthy is so important. This term in PE lessons we will be improving our small sided game skills. We will be playing mini hockey and touch rugby. Each week we will improve our skills. We have continued with the daily mile this term and sweet treats have been replaced with Mr Mc Veigh's toy shop.
Latest Photographs
Class Gallery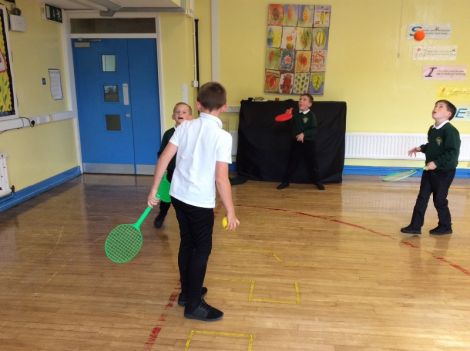 Class News
12th Nov 2019
We are delighted to announce that our coffee morning event raised £350 !!! Many thanks to everyone who donated .

8th Nov 2019
Tickets go on sale today - 8th November !!! Get your tickets early to avoid disappointment ! Go onto the SSE Arena website...
St Joseph's Primary School, 24 Tyrella Road, Downpatrick, County Down, BT30 8DF | T:028 44851600