Welcome to P1/2
September 2018
Welcome to all our new P1's as they begin their exciting new journey with us.
Cohen ,Aidan ,Riley ,Grace ,Jessica ,Aoife ,Mia Rose ,Molly ,Megan ,Tyia
All About Me!!
This month in our classroom we will be learning all about ourselves. When we were a baby and all the stages we have come through in reaching P1
How to care for a baby
What does a baby eat
Staying safe
How to dress a baby
A visit from a mum with her new baby
World Around Us
Identify similarities/differences about me
Understand that we change with time (baby – Toddler)
Learn names of body parts/uses
Numeracy P1
Pre- number skills
Matching, sorting, ordering, sequencing and patterns
Concept of numbers, 0,1,2,3
Numeracy P2
Concept of numbers to 10
Counting to 20
Practical grouping number games
Doubles, adding three numbers, odd/even
Literacy
Listen to stories/poems through big books
Listening centre activities
Shared reading
Phonics
Pre-writing activities
Pencil play/independent writing
ICT work
Letter formation
Literacy P2
Linguistic Phonics
Developing sentence writing skills
High Frequency Words (HFW) recognition
Reading skills developed
October
Our topic during this month will be focussing on "Autumn."
The children will be developing their knowledge and skills through a variety of play experiences including:
Fruit and vegetable shop/weigh with scales
House corner introducing real cooking utensils
Making hedgehogs
Pattern making using fruit/vegetable
Paint Autumn pictures
Float / sink – vegetables in water trya
Healthy foods / not healthy foods
Sorting leaves
Topic books corner
Through the World around us we will be learning about Autumnal changes, characteristics of Autumn, colours of leaves, the weather and through our Autumn walk. We will also be learning about the clothes we wear in Autumn.
November 2018
Houses and Homes.
The children will be developing their knowledge and skills through a variety of play experiences including:
Home corner – kitchen, living room, bedroom, laying the table for meal time, having a party, cooking cleaning, baking etc and role play associated with these jobs.
Bubble painting
Play dough – make tophats and food for house corner
Make houses – cereal boxes
Lego/mobilo – build houses
Build models of our homes
Cutting / sticking – matching objects to different rooms
Home linked jigsaws, puzzles and games
Stories / rhymes / songs with house / home them
In the WAU we will learn about:
Different types of houses
Materials used
Know names of different rooms
Know names of different animal homes
Numeracy we will:
Sort utensils/cutlery for shape, size, colour
Develop concept of capacity through sand and water
Use money in our shop
Literacy we will:
Have access to books about homes
Goldilocks / Three little pigs / Town mouse and the Country mouse
Write shopping lists
Retell a favourite story
Write about a favourite character
As usual in our P1/P2 room it is very busy as we enjoy learning everyday
Class Gallery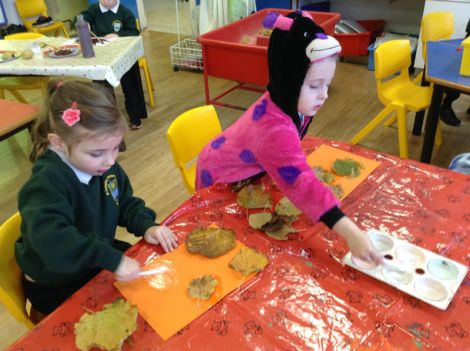 St Joseph's Primary School, 24 Tyrella Road, Downpatrick, County Down, BT30 8DF | T:028 44851600