Welcome to P6/7 Class Zone
Welcome to Primary 6/7.
Keep checking back here to keep up to date on what is happening in and around our classroom.
Here we will post news articles about what we have been up to as well as any big achievements.
Have a look at our gallery to see some things we have created and see if you can spot any familiar faces.
What are we learning?
May - June:
Literacy:
Joined writing with speed and consistency.
Narrative Poetry
Creating autobiographies for presentation (P7)
Look closely at onomatopoeia and Connectives.(P6)
Difficult spellings(P7)
Use features learned throughout the year to create stories and poetry.
Numeracy:
Compass points.
Probability.
Problem solving (two and three step problems involving decimals and fractions.
Imperial Measure
In Primary Six we are working towards The Transfer Procedure.
In Primary Seven we are working towards the Cycling Proficiency.
March - April:
Literacy:
Clear targets for improving both handwriting and presentation skills in all subjects and in homework.
Understanding the features of a recount.
Use the features of a recount to create a piece of writing based on the Titanic.
Look closely at Antonyms, pronouns and conjunctions.(P6)
Look closely at idioms, commas and prepositions. (P7)
Develop effective openings and endings making use of work on adjectives and figurative language.
Numeracy:
Handling Data.
Identify (P6) and create angles. (P7)
Problem solving (two and three step problems involving weight)
Weight and Measure (P7 including tonne)
Consolidation of long multiplication.
Our focus in Primary Seven this half term is our Confirmation preparation. This is a joint effort between parents, children and teachers to prepare your child to receive their sacrament on 10th April.
In Primary Six we are working towards The Transfer Procedure.
Jan - Feb:
Literacy:
Identifying the features of biographies and autobiographies.
Researching information in order to compile a biographical presentation (P6)
Gathering information from family members in order to create an autobiography (P7)
Visit from Author of above novel, Pauline Burgess, on 18th January.
Looking closely at prefixes, specifically "auto" and "bio".
Using adverbs and adjectives in writing.
Numeracy:
Fractions (term 2) adding and subtracting fractions. Ordering fractions. Converting fractions to decimal.
Long Multiplication (P6)
Problem solving (two and three step problems)
revision of division methods
Place value to millions
Time - 12-hour and 24-hour clock and timetables.
Dec:
Literacy:
verbs - write using past, present and future tense verbs, understanding the different usages.
Exploring adverbs.
Gain experience of writing non chronological reports.
Class Novel - Who Do You Think You Are?
Discussion of texts including character studies
Maths
Factors and Multiples
Revision of Fractions.
Equivalent Fractions.
Comparing and ordering fractions where the denominators are multiples of the same number.
Develop strategies for converting and finding a fraction of an amount.
Understand and use terms horizontal, vertical, perpendicular and parallel.
Sep - Nov:
Literacy:
Learn about and write using different parts of speech, e.g. nouns (collective, Proper, common and P7 - abstract)
Gain experience of writing using singular and plural nouns.
Read a range of different texts
Discuss and respond to reading a variety of genre, at each child's own level.
Expand vocabulary by encouraging greater use of dictionaries and thesauri.
Explore abstract poetry
Be encouraged to share poems, book reviews and personal experiences/interests outside of school with the class.
Maths:
Revise the four basic operations of adding, subtracting, multiplying and dividing through practical and written work.
Work with numbers within 999 999.
Consolidate times tables, encouraging a sound recall.
Collect and gather information, using it to form graphs, and be able to interpret the information presented.
Be able to name a variety of 2D shapes and their properties.
Explore different types of triangle
Explore different methods of carrying out mental calculation
Latest Photographs
Pop Art
Self Portraits in the style of Romero Britto
Creation Display
Creation booklets
Self portraits
Happy Birthday Frank
Learning about large numbers is fun
What number can we make?
Phonics work on the computer
Class Gallery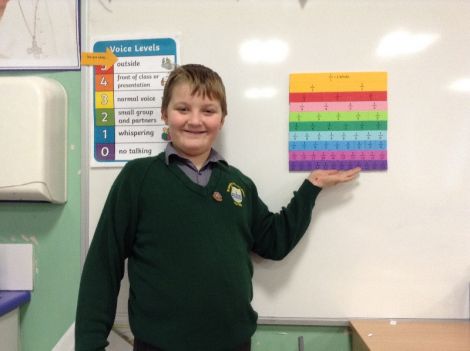 Class News
10th Sep 2019
As part of our work this year to promote Mental Health & Well Being, we will be hosting a fantastic 1 day event with...

10th Sep 2019
This month we are delighted to welcome Mr A McEvoy to our school. Mr McEvoy has taken up his new teaching post in Year6/7...

St Joseph's Primary School, 24 Tyrella Road, Downpatrick, County Down, BT30 8DF | T:028 44851600