Spiritual Enrichment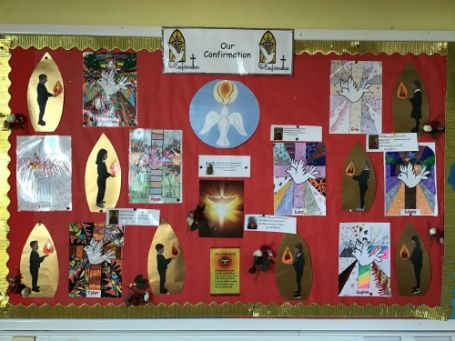 This year has seen the challenges of COVID 19 affect the development of 'Grow in Love' from P1-7. The staff & pupils in each year group have worked hard both in school and during online / remote learning in term 2 to ensure the continued development of religious education.
Our P3&4 pupils made their First Confession after Lockdown during two beautiful ceremonies in April. We continued with the 'Do This in Memory Of Me' programme, which is a Parish-based Preparation Programme for the First Eucharist pupils and we prepared our P7 pupils for Confirmation.The children who are taking their Sacraments this year attended online Mass on a Sunday with their Parents in the community.
Children attend online Mass in term 3 from different classes every Friday and the whole school every First Friday.
Each teacher has been given a copy of 'The Wonder of My Being' and have been implementing the lessons and worksheets along with their Grow In Love programme and PDMU.
Father Fleck has not been able to visit our classes regularly due to COVID 19 restrictions but we hope this will change in 2021/22.
It has been a very busy and rewarding year in school especially as the classes prepare for their sacraments.
All the teachers work together and celebrate with Joy the special events with the children and their families.
Sacrament of Confession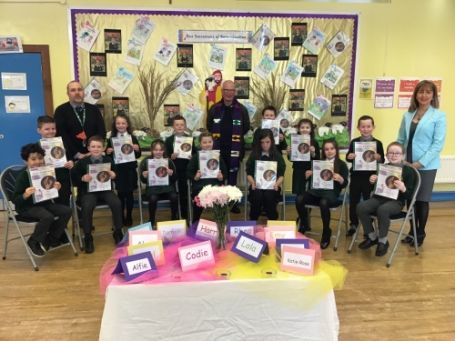 Primary three children celebrated the 'Sacrament Of Reconciliation'.
The children acted the story of The Good Shepherd playing the part of the 'lost sheep' and the caring 'Shepherd'.
The school choir sang beautifully with hymns such as 'We are the Greatest' and 'The Lost Sheep'.
The children then sat in their wilderness which they had made in class.
Finally they finished off the night by giving their Mums and Dads a big hug before they received their certificates from Fr Fleck.
Well done boys and girls!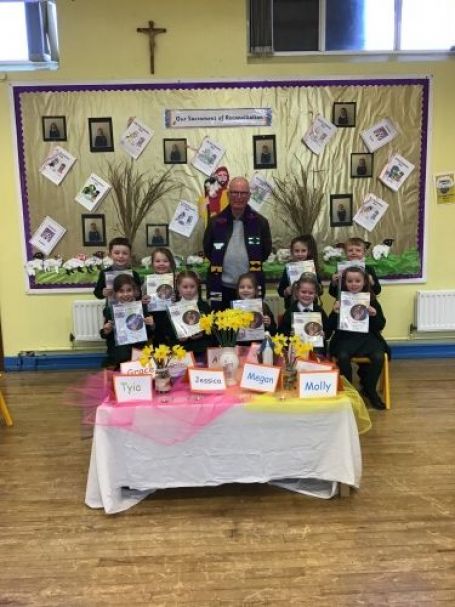 Our Religious Education Programme is based on the Grow in Love Series . This programme prepares the children for the Sacraments of Reconciliation, Communion and Confirmation. Parents are invited to attend meetings in connection with these.
Our staff are aware of the spiritual need of the children and we try to make sure that their various needs and those of their parents are catered for. School assembly is held every Friday with class assemblies held monthly
St Joseph's Primary School, 24 Tyrella Road, Downpatrick, County Down, BT30 8DF | T:028 44851600